27 août 2011
6
27
/

08
/

août
/

2011
08:36
It's beginning to feel like we're jinxed ! After another day of rainstorms yesterday, where we once again had to resort to our "chenillard" to get the grapes out of the vineyards, today the wine press has broken down. This is the "Rolls Royce" of grape presses, which we bought just 5 years ago, and is considered to be extremely reliable. We'd just finished emptying it and were about to load up again with 8000 kg of grapes, but the cover would not open. It's appears to be an electrical problem, and the replacement part has to be brought from Reims, which is 150km away, so all we can do is wait. And once it arrives, it will take at least an hour and a half to repair. It couldn't have happened at a worse moment, because on the weekends we tend to have more grapes brought in from other growers, who deliver their harvest to us to have it crushed for the big champagne trader houses.
Brings to mind the image of that cartoon character in L'il Abner who walked around with a cloud over his head....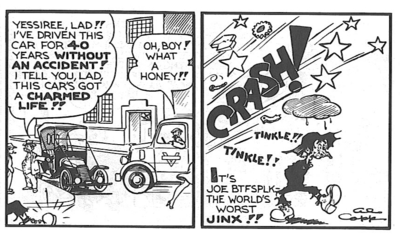 On commence à en avoir marc !!! (jeu de mots intentionnel...) Encore une journée de pluie incessante hier, donc recourt au chenillard pour sortir les raisins de la vigne. Et aujourd'hui, cerise sur le gâteau, panne de pressoir ! On venait de le vider et s'apprêtait à le recharger avec 8000kg de raisins, mais la porte est restée bloquée. Apparemment c'est une panne électrique, et on doit attendre une pièce venant de Reims (150km d'ici) et ensuite il y en a pour 1 heure et demie de réparation. Le pressoir est pratiquement neuf, acheté seulement il y a 4 ans, et il est un des plus fiables des pressoirs. Thierry pense que c'est peut-être l'orage qui l'a grillé. En tout cas, ca arrive vraiment au mauvais moment, car le weekend on a plus de coupeurs et donc on réceptionne plus de raisins !
Je sens que cela va être une très longue journée......