23 octobre 2009
5
23
/

10
/

octobre
/

2009
08:13
Voici une photo qui date de la 2ème Guerre mondiale. C'est le Régiment du Grand-père, où on peut voir Mr Galland, notre client centenaire (en haut, 1er à gauche), et Georges Fluteau (en haut, 4ème en partant de la gauche)
Here's a photo which dates back to the 2nd World War, where you can see Thierry's grandfather, Georges Fluteau, back row, fourth from the left, and Mr Galland, back row, first from the left. They were together in the same army regiment.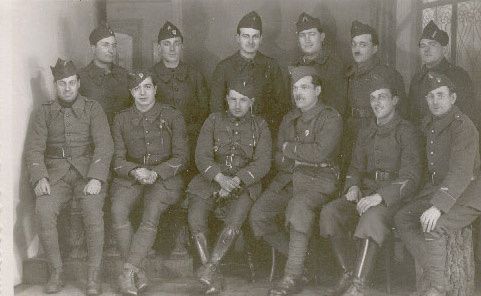 Below is the poem which Mr Galland transcribed for me in his own hand, which describes their "holiday menu", circa 1939! I won't translate all, but the last lines read something like this: "From our friend Fluteau, appreate the gift. Excempt of bromide, he assures . Let the champagne sparkle ! May our glasses be full. And send over the girls from the Casino de Gaubshsheim. For the Christmas of 1939 we were all widoweres, yet children of merriment we were all."
Ci-dessous vous trouverez un poème transcrit par Mr Galland, qui décrit le repas de Noël du régiment en 1939!
Je ne peux pas vous dire si c'était la réalité ou plutôt un rêve....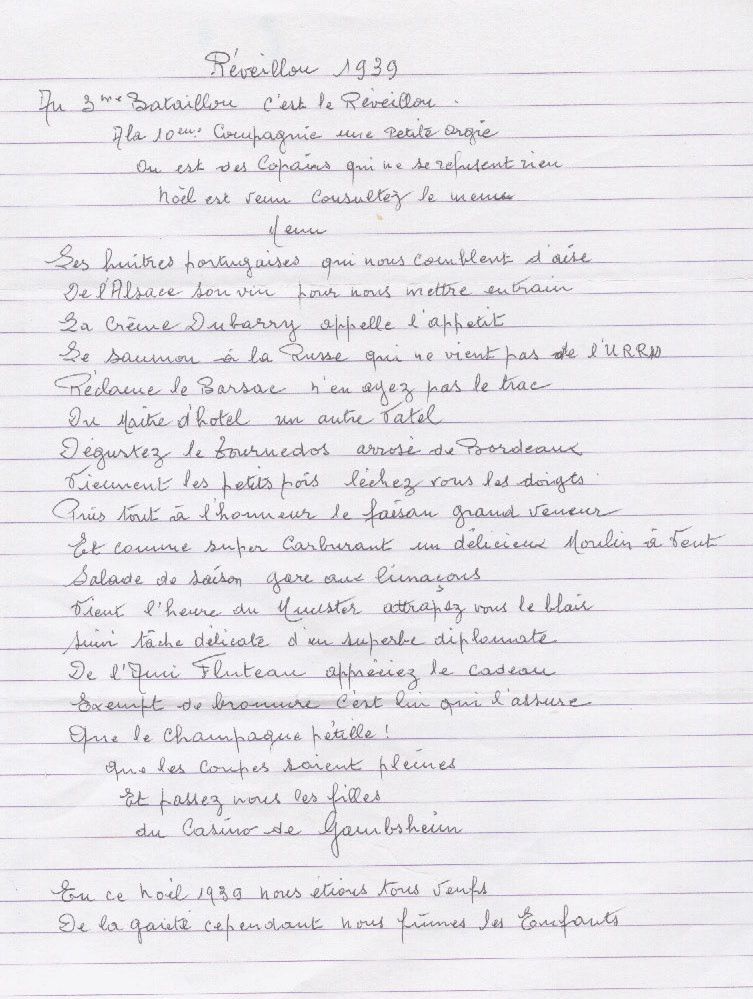 Les dernières lignes se lisent "De l'ami Fluteau, appréciez le cadeau. Excempte de bromure, c'est lui qui l'assure. Que le champagne pétille ! que les coupes soient pleines. Et passez nous les filles du Casino de Gaubsheim. En ce noël 1939 nous étions tous veufs. De la gaieté cependant nous fûmes les enfants."